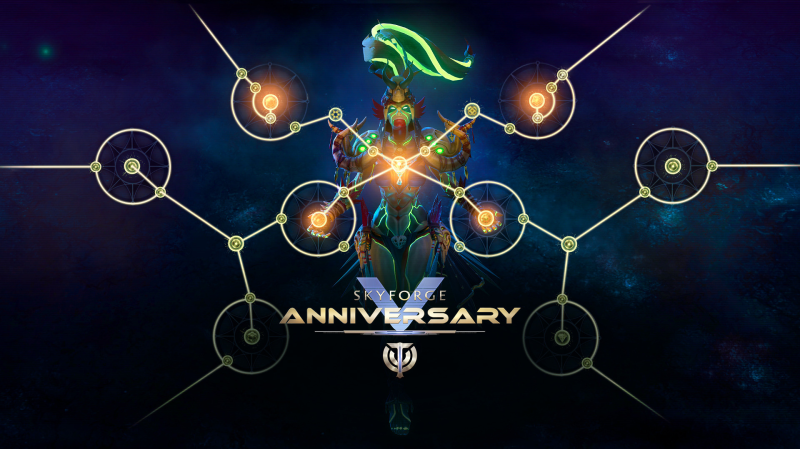 Skyforge celebrates fifth anniversary with new expansion

Posted by
MMOEdge
on
Mar 12, 2020
Skyforge is celebrating its fifth anniversary with huge new expansion coming March 25 for PC and March 26 on PlayStation 4 and Xbox One.
The upcoming expansion will include the following features:

Phytonide Invasion: new invasion pass and rewards

Spring is in bloom, and so are the Phytonides! These green-fingered goons are readying a new invasion of Aelion. Cut down the Phytonides and the Avatar Machavann to earn great rewards from a new Invasion Pass, including the Divine Form Wakan.

New Divine Form: Wakan

The divine warrior has watched over Aelion for many eons, and has finally deemed the Immortals worthy of their power. The Divine Form Wakan is a cosmetic that can be unlocked as a special reward from the new Phytonide Invasion Pass.

Invasion Atlas

Take advantage of amazing bonuses during Invasions with the Invasion Atlas, a new progression system where you define your journey and rewards! Navigate this celestial chart and select its different nodes to enjoy unique perks, specific class benefits, and more. The Invasion Atlas will change with every new Invasion, so you'll never traverse the same route twice!

Nightmare Challenges

Skyforge veterans may no longer be phased by the terrors of the cosmos, but that's about to change! With the introduction of Nightmare Challenges, Players can ramp up the difficulty on their adventures with tougher enemies, more adversity, and more satisfying rewards.

Celebrate Aelion Day!

Every year, we commemorate the bonds that unite Aelion and protect this world from the threat of invasion. Aelion gives thanks to its divine guardians with new missions across three weeks, and five exclusive Anniversary costumes to earn!
Sources: Press Release, sf.my.games
Similar

Articles