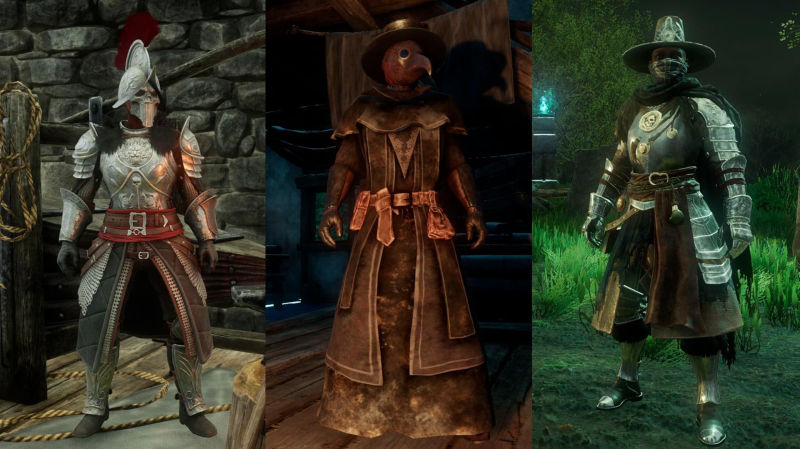 New World details PvP and the factions of Aeternum

Posted by
MMOEdge
on
Mar 3, 2020
The latest dev blog for New World has been published and this time the focus is on the factions of Aeternum.
Factions are powerful organizations locked in the struggle to control Aeternum. After reaching a particular milestone during the early parts of your adventure, you must choose a side in this conflict. As you adventure, you will be introduced to these three Factions: the Marauders, the Syndicate, and the Covenant. Each Faction has a set of principles and a unique motivation for wanting control of Aeternum.
The Marauders are a ruthless military force bent on establishing a free nation where anyone with the strength to do so can prosper and profit.
The Syndicate is a secretive organization of boundless guile and intellect in search of forbidden knowledge to usher in a new age of enlightenment.
The Covenant is a fanatical order that has charged itself with cleansing the land of heretics and defilers so that its true holy nature can flourish and justice can be restored.
The article goes on to explain the importance of PvP in New World and why their decision to remove always-on PvP does not mean its not a key aspect of the game.
When we made the decision to remove always-on open-world full-loot PvP from New World, it was not a decision to remove Player vs. Player (PvP) combat from the game. In fact, we wanted to focus it, to create stakes that everyone in Aeternum could invest in, even if they aren't directly interested in PvP themselves.
You can read the full article on the official New World site.
Source: newworld.com
Similar

Articles